Are you ready for Big Screen Surgery?
Ultra High Definition
4K - Four Times the Resolution of Full HD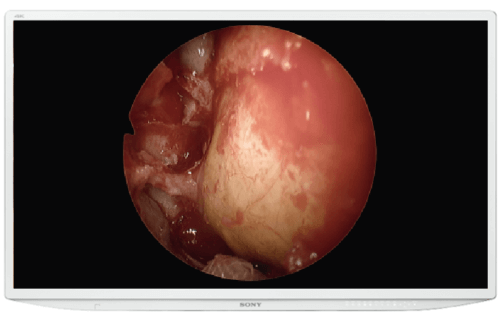 Provides four times more information than conventional Full HD imaging systems

Visera 4K UHD supports both 4K UHD (3840 × 2160) and Full 4K (4096 × 2160) resolution

ED Glass Lenses – Razor-Sharp Images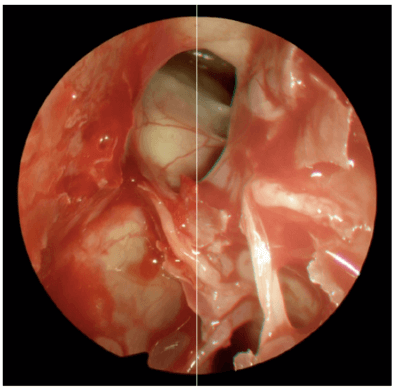 Left: ED Glass Lenses
Right: Normal Glass Lenses
Optimized for high-resolution imaging

Decreased chromatic aberration

High contrast at high spatial frequencies
Exmor R® Sensor – Clearer Images in Every Condition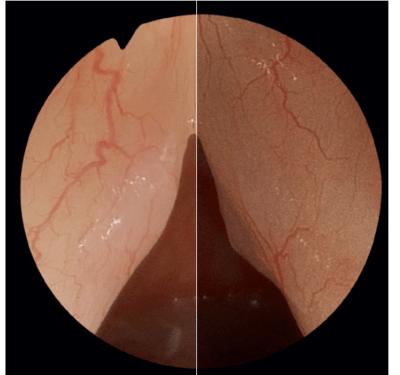 Left: 4K with Exomor R
®
Sensor
Right: No Exomor R
®
Sensor
Twice as sensitive as conventional sensors

Higher image quality in low light conditions
One-Touch Auto Focus – Fast and Accurate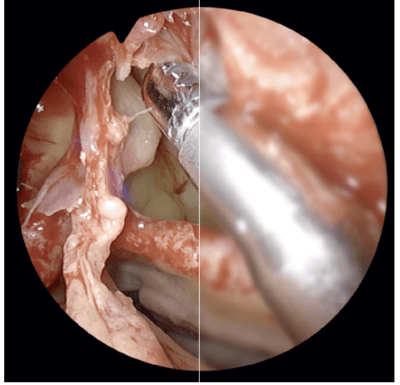 Left: Auto Focus
Right: No Focus
Achieve the optimal view

Immediate focus of the image center

Simplified usability during surgery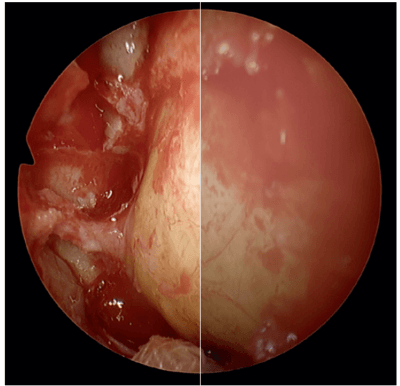 Left: 4K Optical Contrast LCD Panel
Right: Conventional LCD Panel
Reduced reflections

Unclouded images during surgery
Wider Color Gamut
More Details, More Difference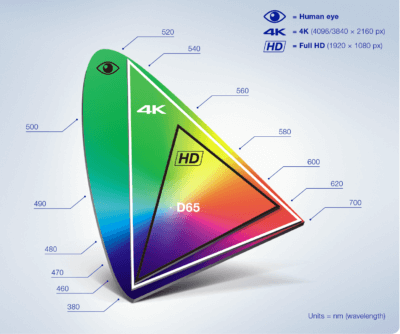 The VISERA 4K UHD generates a wider color gamut by adopting the 4K color format (BT2020).
This enables rich color reproducibility and provides suitable colors for each clinical discipline.
Allows surgeons to observe fine patterns and structures in high precision

Much more subtle differences in reds and yellows than conventional HDT

V
Magnified Visualization
Get Closer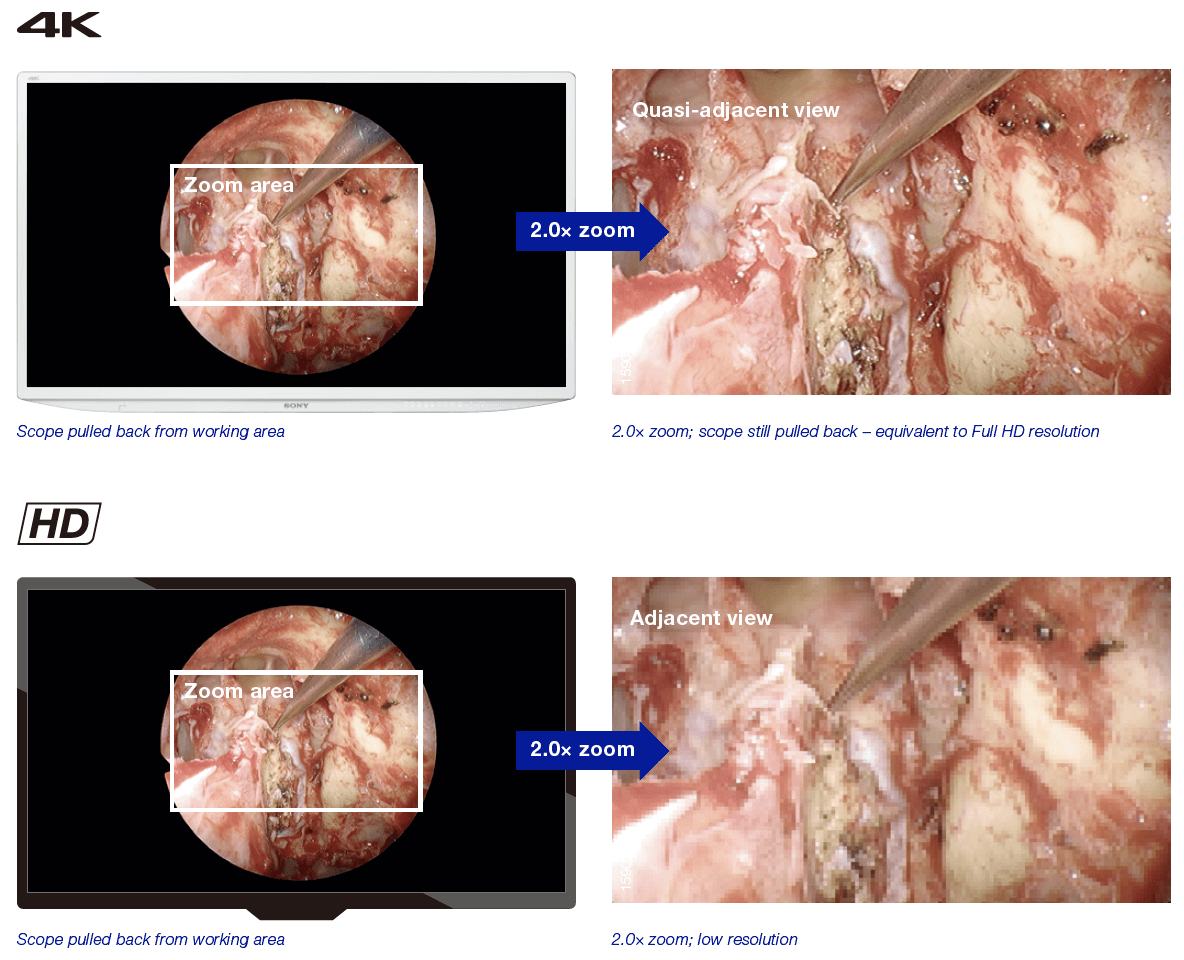 Panoramic view for the whole OR team with optimal viewing distance and wide viewing angle

Structure enhancement processing based on image enhancement technology enables clearer recognition of human tissue and instruments in the body cavity

Allows surgeons to observe fine patterns and structures of tissues in the body in high precision even when enlarged

Equivalent to Full HD resolution even at 2.0x zoom

Electric zoom allows for the scope to be moved from the operating field in order to avoid mist and smoke and to reduce "sword-fighting" of hand instruments
Products
VISERA 4K UHD System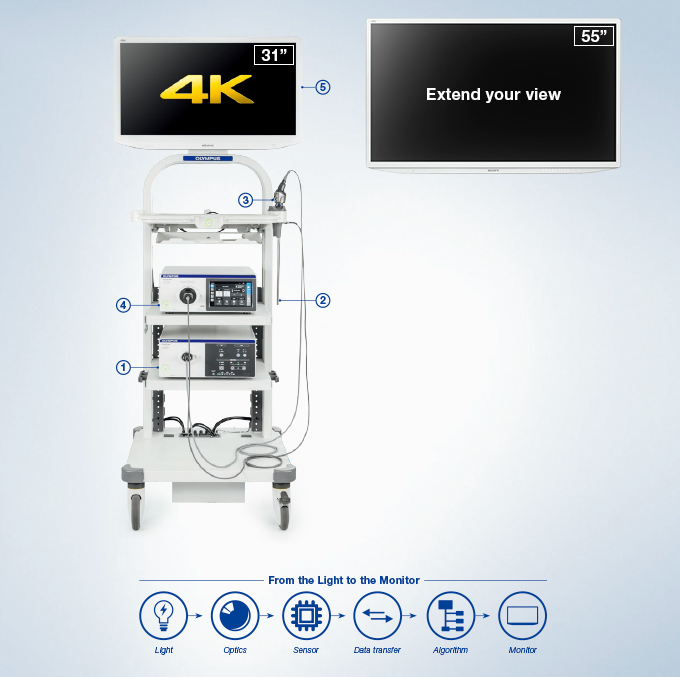 ①Light Source – CLV-S400
②ULTRA Telescope
③Camera Head – CHS-S400
④Camera Control Unit – OTV-S400
⑤31" Monitor – LMD-X310S
⑥55" Large Monitor – LMD-X550S