ESG-300 Electrosurgical System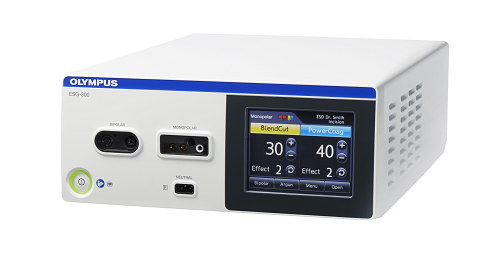 ESG-300 is designed exclusively for GI and pulmonary, and includes all of the modes and settings required by physicians performing advanced therapeutic procedures.
The ESG-300 is able to produce a variety of electrical waveforms resulting in different tissue effects (Cutting modes and coagulation modes, as well as blended modes). The main benefit of the variety of modes is the ability to make precise cuts with limited blood loss by generating concentrated current.
Flexibility of use as a stand alone generator or in combination with the Argon Plasma Unit to produce a variety of waveforms to accommodate monopolar, bipolar and argon plasma coagulation devices.
MONOPOLAR HF MODES
---
Pure Cut
Continuous cutting mode with low coagulation effect
PulseCut Slow/Fast
Intermittent cutting mode which is commonly used for various endoscopic procedures
BlendCut
Continuous cutting mode with increased coagulation effect – ideal for dissection
---
SoftCoag
Slow and deep coagulation – optimal for coagulation of thick blood vessels
SprayCoag
Contact-free coagulation – optimal for POEM procedures
ForcedCoag
Fast and effective coagulation
PowerCoag
Fast and effective coagulation with increased dissection capability