PLASMA Vaporization Therapy
PLASMA Vaporization
PLASMA vaporization provides a safe, easy-to-use solution for TUR tissue-management procedural needs in which energized gas smoothly vaporizes the tissue. The new optimized oval shape in combination with the easy-to-learn "hovering technique" results in an effective, fast ablating, and virtually bloodless vaporization of the tissue. Through the optimized interaction between the PLASMA vaporization electrode and the high-frequency (HF) generator an instant PLASMA ignition and stable PLASMA vaporization is guaranteed for the smooth vaporization of prostatic tissue.
Benefits
Continuous and safe hemostasis

27% fewer severe complications compared to TURP1

83% fewer readmissions compared to TURP2

Significantly shorter hospital stay compared to TURP3

Potential for day surgery due to a shorter catheterization period and hospital stay

Use has been demonstrated in patients on anticoagulants4

A fraction of the material costs of photoselective vaporization (PVP)

Clear and unobstructed view throughout the operation as neither tissue nor laser impulses impair vision
Recommended Vaporization Electrode
With its optimized shape the new Plasma-OvalButton allows around 20% faster vaporization compared to the existing PlasmaButton (round).5 6 7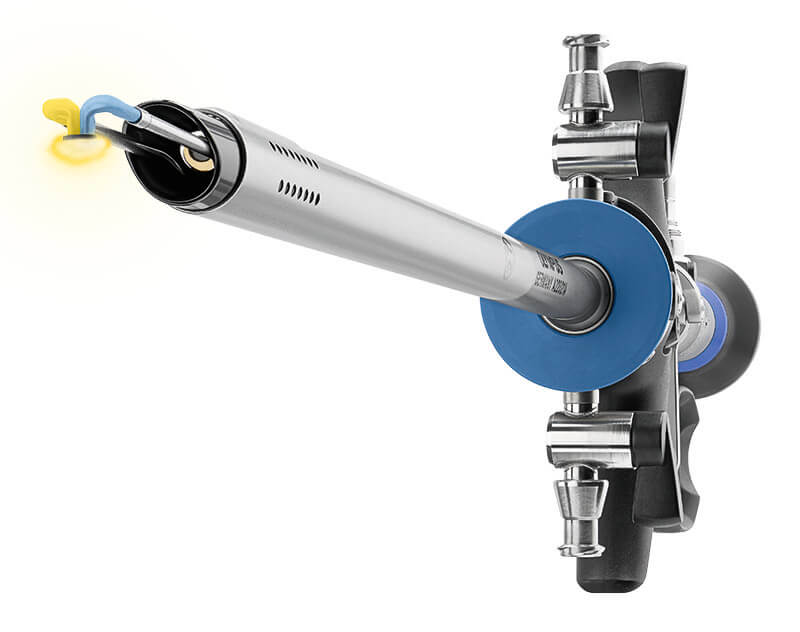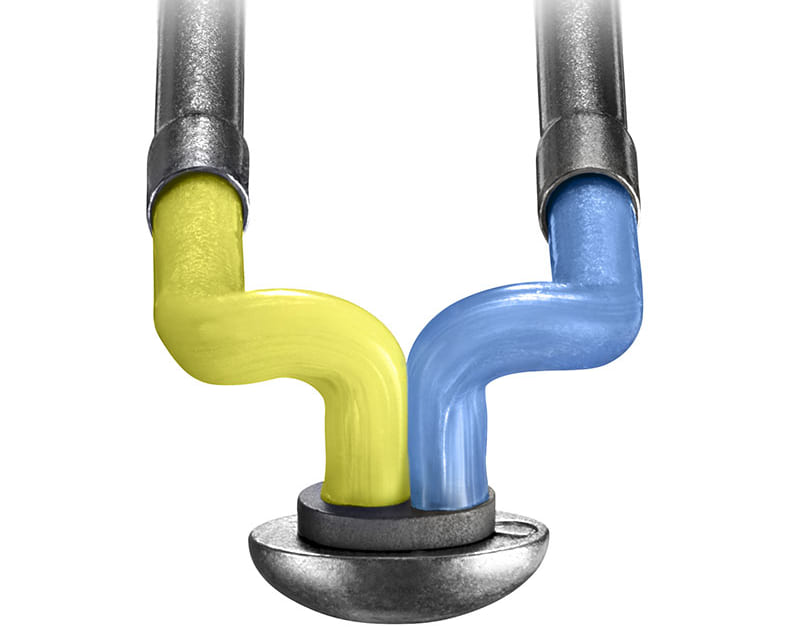 1.Wroclawski ML, et al. "Button type" bipolar plasma vaporisation of the prostate compared with standard transurethral resection: a systematic review and meta-analysis of short-term outcome studies. BJU Int. 177 (2016): 662–668.
2.Geavlete B, et al. Bipolar plasma vaporization vs monopolar and bipolar TURP-A prospective, randomized, long-term comparison. Urology 78 (2011) 4: 930–935.
3.Geavlete B, et al. Transurethral resection (TUR) in saline plasma vaporization of the prostate vs standard TUR of the prostate: "the better choice" in benign prostatic hyperplasia? BJUI 106 (2010): 1695–1699.
4.Delongchamps NB, et al. Surgical management of BPH in patients on oral anticoagulation: transurethral bipolar plasma vaporization in saline versus transurethral monopolar resection of the prostate. Canadian Journal of Urology 18 (2011): 6007–6012.
5.Olympus internal lab testing; data from Olympus Corporation
6.Compared to existing Olympus vaporization electrode
7.Compared to PlasmaButton
Disclaimer
This surgical technique is presented to demonstrate the Barnes method adapted by Prof. Raßler, MD of the Urology Department at St. Elisabeth Hospital in Leipzig (Germany).
Olympus as manufacturer does not practice medicine, and therefore the information on the products and procedures contained in this document is of a general nature and does not represent and does not constitute medical advice or recommendations. This information does not purport to constitute any diagnostic or therapeutic statement with regard to any individual medical case. Each patient must be examined and advised individually, and this document does not replace the need for such examination and/or advice in whole or in part.
Please refer to the instructions for use for important product information, including, but not limited to, contraindications,
warnings, precautions, and adverse effects.
Versatile Usability – Vaporization Techniques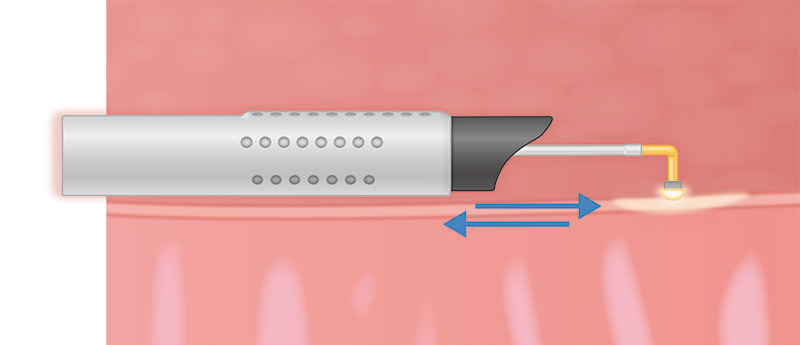 Hovering technique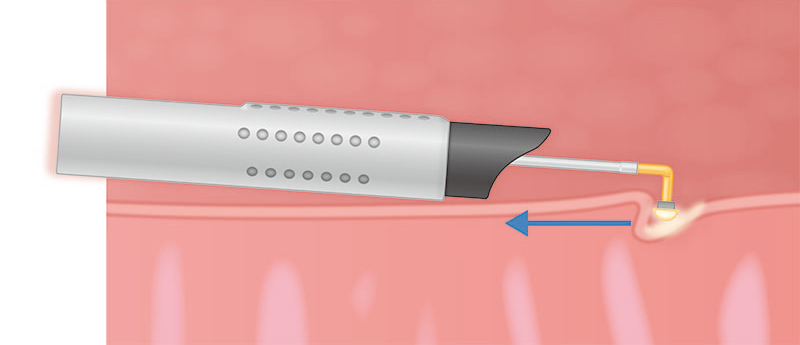 Deep dive technique
Note:
The hovering technique can be applied in both directions so that the procedure time can be minimized.
The Barnes Method
The Barnes method aims to completely clear one side of the prostate after the other. It is divided into three easily recognizable phases: proximal, middle, and apical resection/vaporization.