Endoscopic Ultrasound - EUS Atlas and Learning Center
*This content is the link to EUS Atlas download page. If you will download this content to your PC, you are required over 5GB.
Please make sure that there is enough free disk space on your computer and your computer fulfill system requirements as below.
System Requirements
Windows
Windows XP (SP2), Windows Vista, Windows 7/8, Windows 10
Intel Pentium 4 processor
512 MB RAM
Display at least 1,280 × 768 resolution
DVD-ROM DL drive
Sign in password: eusatlas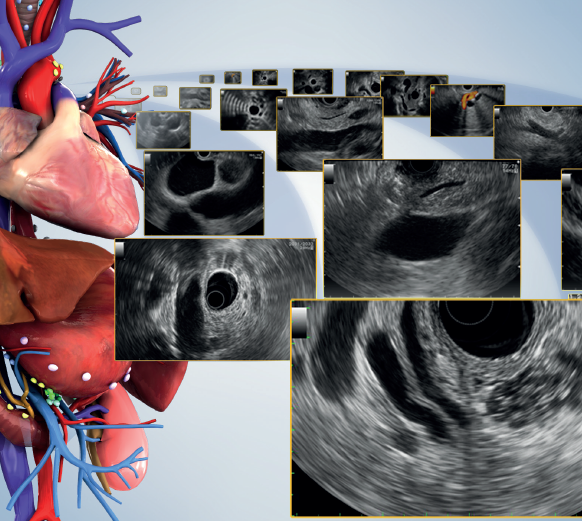 The EUS Atlas and Learning Center offers a comprehensive collection of EUS images and videos obtained from diagnostic and therapeutic procedures. Medical cases can be easily selected by different parameters and the dynamic link function enhancements provide a more thorough understanding of the respective procedures. There is an examination and procedure library with detailed explanations of anatomical-guiding structures and step-by-step approaches. There are also 3D illustrations that facilitate EUS knowledge and provide more confidence for orienting via landmarks, operating the EUS devices, and interpreting ultrasound images correctly.

For you, as a doctor performing EUS, the EUS Atlas and Learning Center provides a complete set of images and videos that are ready to use for training purposes and will be regularly updated by further case uploads.
Editor
Pietro Fusaroli, MD
– University of Bologna / Hospital of Imola, Imola, Italy
Contributors
Palle Nordblad Schmidt, MD
– Hvidovre Hospital, Hvidovre, Denmark
Bertrand Napoleon, MD
– Hôpital Privé Jean Mermoz, Lyon, France
Christine Lefort, MD
– Hôpital Privé Jean Mermoz, Lyon, France
Siegbert Faiss, MD
– Asklepios Klinik Barmbek, Hamburg, Germany
Stephan Hollerbach, MD
– Allgemeines Krankenhaus Celle, Celle, Germany
Giancarlo Caletti, MD
– University of Bologna / Hospital of Imola, Imola, Italy
Paolo Bocus, MD Veneto
– Hospital Sacro Cuore, Negrar, Italy
Thomas Togliani, MD
– Hospital Carlo Poma, Mantova, Italy
Jeanin van Hooft, MD
– Academic Medical Center / University of Amsterdam, Amsterdam, Netherlands
Paul Fockens, MD
– Academic Medical Center / University of Amsterdam, Amsterdam, Netherlands
Marcin Polkowski, MD
– M. Sklodowska-Curie Memorial Cancer Center, Warsaw, Poland
Evgeny Fedorov, MD
– Pirogov Russian National Research Medical University, Moscow, Russia
Zalina Galkova, MD
– Pirogov Russian National Research Medical University, Moscow, Russia
Angels Gines, MD
– Hospital Clinic Barcelona, Barcelona, Spain
Stefan Seewald, MD
– GastroZentrum Hirslanden, Zurich, Switzerland