Case3 – Recurrent NSCLC (EGFR positive)
Author:
Felix Herth, MD and Ralf Eberhardt, MD, Thoraxklinik, University of Heidelberg, Germany
Source:
DVD-ROM 'Endoscopic Ultrasound – Diagnostics and Staging of Lung Cancer', Olympus Europa SE & Co. KG, 2013
Patient History
Female, 61 years. Patient with a history of lung cancer NSCLC RLL stage IIIA (T2N2M0) in 2005.
Treatment: Surgery and adjuvant radiation therapy.
Breast cancer in 2004 (right) and 2001 (left).
Treatment: surgery followed by chemotherapy.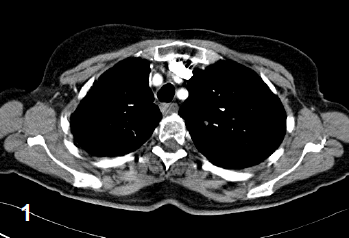 1
CT
Routine follow-up with CT in 2011 showed lymph node
enlargement.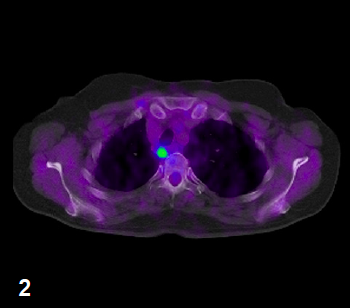 2
PET-CT
PET-positive LN station 3p.
The question to be answered was, whether it was a metastasis from breast cancer or recurrent lung cancer.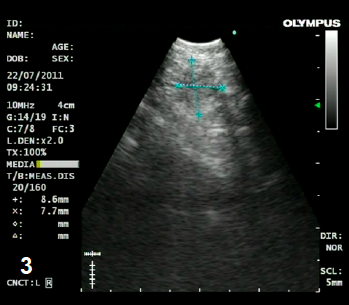 3
Endobronchial Ultrasound
EBUS shows a lymph node 9 mm in size at lymph node station 3p.
Pathology
EBUS-TBNA sample was positive for adenocarcinoma from the lung. EGFR test was positive.
Diagnosis
Recurrent NSCLC. Positive EGFR test favours targeted chemotherapy.
Therapy
Chemotherapy with tyrosinekinase-inhibitor (TKI) was started.