Case5 – Squamous Cell Carcinoma Stage IIIB (T3N3M0)
Author:
Felix Herth, MD and Ralf Eberhardt, MD, Thoraxklinik, University of Heidelberg, Germany
Source:
DVD-ROM 'Light & Sound – Diagnostic Training', Olympus Europa SE & Co. KG, 2013
Patient History
64 years, female.
Patient reported persistent cough. Further diagnostic imaging showed suspicious lesion in the right lower lobe.
Consecutive sampling of the lesion (biopsy during bronchoscopy) resulted in diagnosis of squamous cell lung cancer. Referral to lung clinic for assessment of N-stage prior surgery.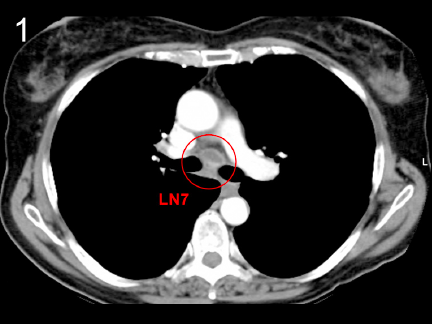 1
CT
Enlarged lymph node in station 7 (fig. 1).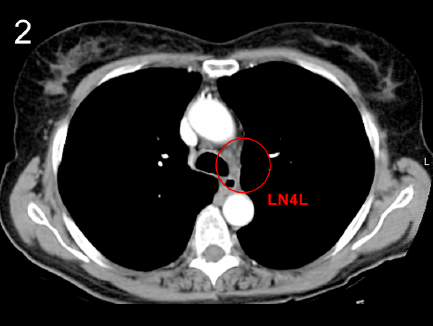 2
Enlarged lymph node in station 4L (fig. 2).
Endobronchial ultrasound
EBUS-TBNA confirms enlarged lymph nodes in station 7 and 4L. Both stations were sampled. LN7 above the left atrium and right pulmonary artery (fig. 3).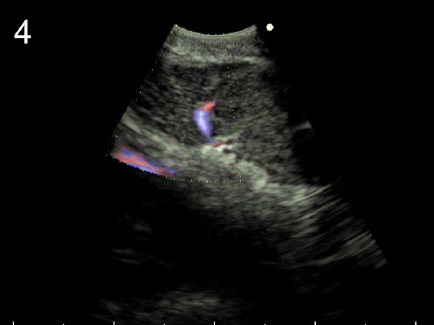 4
Enhanced ultrasound view for flow detection (eFlow).
Here flow is highlighted in the upper margin of the left atrium and within a microvessel in subcarinal lymph node station 7 (fig. 4).
LN7 with EBUS-TBNA needle during sampling (fig. 5).
Histology
Squamous cell carcinoma (SCC) of the right lower lobe with confirmed lymph node metastasis in LN7 and LN4L.
N3 disease.
Diagnosis
Squamous cell carcinoma Stage IIIB (T3N3M0).
Treatment
Chemotherapy (Carboplatin and Vinorelbine).