Case 2 – SCLC extensive disease (T1bN3M1b)
Author: Felix Herth, MD and Ralf Eberhardt, MD, Thoraxklinik, University of Heidelberg, Germany
Source: DVD-ROM 'Light & Sound – Diagnostic Training', Olympus Europa SE & Co. KG, 2013
Patient History
58 years, male.
The patient received a Chest X-ray in order to clarify about a suspected pneumonia which resulted in discovery of a suspicious formation in the left upper lobe.
CT
Consecutive imaging by CT reveals a suspicious mass in left upper lobe (fig. 1), furthermore enlarged lymph node station 7 (N2) (fig. 2) and lymph node station 4R (N3) (fig. 1).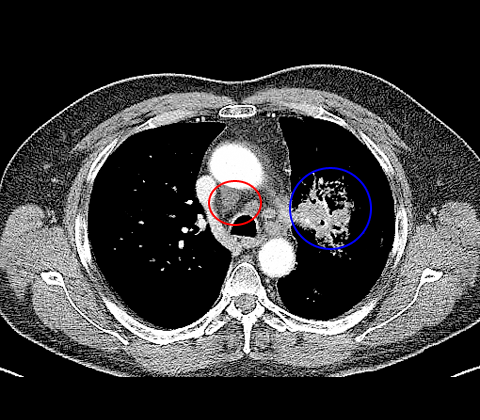 1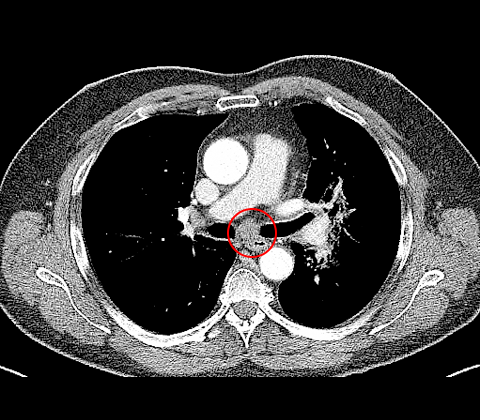 2
White light bronchoscopy
Thickened carina at the level of left upper lobe bronchus (fig. 3). Suspicious thickened carina and increased vessel formation at the carina of LUL S 1+2 (fig. 4).
Endobronchial ultrasound
Radial endobronchial miniature probe confirms distinct tumour formation around the left upper lobe bronchus, segment 1+2b (fig. 5).
Cytology and bronchial biopsy were performed(fig. 6-7)
Histology and Immunohistochemistry
The tissue sample confirmed Small Cell Lung Cancer (SCLC).
Nuclei prove TTF-1 positive, Cytoplasm positive for BerEp4, predominantly CD56 and partly NSE and synaptophysin.
An absence of a specific immune reaction to CK5/6, p63 and KL-1 and a proliferation rate above 80% (Ki67) were assessed.
Diagnosis
SCLC LUL, extensive disease (T1bN3M1b).
Treatment
Chemotherapy 4 cycles Cisplatin, partial remission.
PET-CT and switch to limited disease as adrenals were unsuspicious. Thoracic radiation therapy and PCI.
Follow-up after six months shows progressive thoracic and hepatic disease. 2nd-line-chemotherapy was offered.