Anterior Commissure Growth - Squamous Cell Carcinoma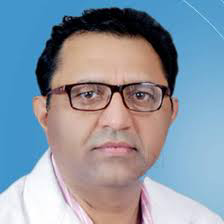 Rakesh Srivastava, MD, PhD
MBBS, MS(ENT), KGMC, UP (India).
Consultant Laryngologist, Sushrut Institute of Plastic Surgery & Super specialty Hospital, Lucknow
Endoscopic Finding;
NBI demonstrate proliferative growth near anterior commissure and supracommissural area  with well defined brownish dots indicative of squamous cell carcinoma. Advanced meandering and dilated end capillaries, few dot like vessel loops.
Pathological Finding;
Histopathology shows stratified squamous cells displaying pseudo-epitheliomatous hyperplasia in large part with significant dyskeratosis and anisonucleosis with hyperchromsia.  Subepithelial zone infiltrated by irregular nest and cord and sheets of atypically proliferated squamous cells. The cells show anisonucleosis with loss in nuclear orientation.
Conclusion- Anterior Commissure growth- Squamous cell carcinoma.