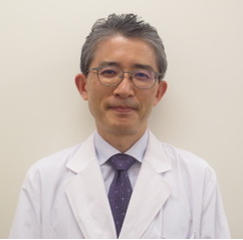 Author: Daisuke Himeji, MD, PhD
Miyazaki Prefectural Miyazaki Hospital, Japan
Endoscopy Center, Department of Internal Medicine, Department of Medical Informatics
---
Scope: BF-H1200
Location: Metastatic tumor at the entrance of the right main bronchus (source of primary lesion – breast cancer)
Patient information: Female in her 50s
Medical history:
Right breast cancer was diagnosed 11 years ago and mastectomy was performed. Eight years later, it recurred and metastasized to the lung. A right lower lobectomy was performed, followed by the administration of various chemotherapies. In a recent chest CT performed as part of post-operative monitoring, a possible tumor was detected in the right main bronchus. The patient was consequently referred to us.
Case video
In comparison with conventional white light imaging, the TXI mode noticeably enhances the properties and distribution of vessels on the surface of the tumor, as well as the characteristics of the longitudinal wall, thereby providing images that facilitate assessment of the degree of infiltration of the tumor into the bronchial wall. This video also shows images of bronchial intervention. It is easy to see the bleeding point of the tumor in the RDI mode. The bleeding point is cauterized with argon plasma coagulation for hemostasis.
Pathological Findings
Diagnosis of metastatic lung cancer (breast cancer)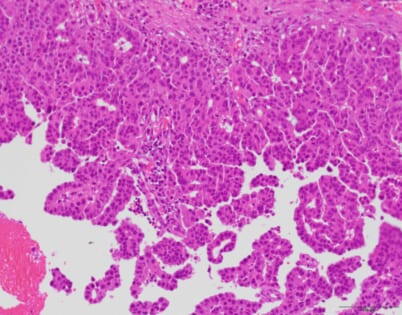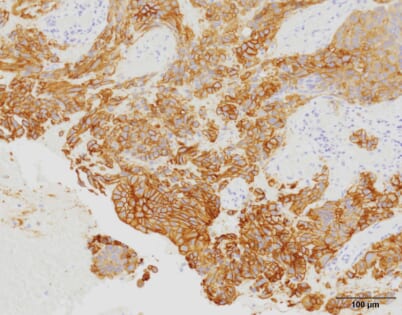 Tumor cells feature a sheet-like architecture with a honeycomb or solid pattern, part of which also shows papillary growth. Some disruption is visible, as well. The tumor cells are HER2 positive, so it is suspected that the breast cancer has metastasized to the lung (bronchial metastasis).
Overall Comment
We performed a bronchoscopy in order to determine an appropriate interventional strategy. While the image quality of white light images was extremely clear, using the TXI mode enhanced the vascular properties, highlighting the network of vessels on the tumor surface and the thickening of the longitudinal wall, thereby facilitating comprehension of the characteristics of the lesion and the extent of infiltration. To prevent occlusion of the right main bronchus, we resected the tumor using rigid bronchoscopy. During the procedure, we performed bronchoscopy to observe the lesion, and were able to clearly observe active bleeding from the resected site in the RDI mode.
Co- author
Department of Internal Medicine, Miyazaki Prefectural Miyazaki Hospital
Dr. Gen-ichi Tanaka, Dr. Ryoichi Matsumoto, Dr. Ritsuya Shiiba 
Department of Surgery, Miyazaki Prefectural Miyazaki Hospital
Dr. Kiichiro Beppu, Dr. Seiichi Odate 
Department of Anatomic Pathology, Miyazaki Prefectural Miyazaki Hospital
Dr. Kousuke Marutsuka, Dr. Murasaki Aman
* Specifications, design and accessories are subject to change without any notice or obligation on the part of the manufacturer