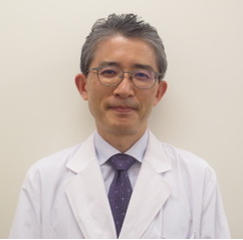 Author: Daisuke Himeji, MD, PhD
Miyazaki Prefectural Miyazaki Hospital, Japan
Endoscopy Center, Department of Internal Medicine, Department of Medical Informatics
---
Scope: BF-H1200
Location: Left main bronchial infiltration of lung cancer
Region: From the lower trachea to the tracheal bifurcation
Patient information: Male in his 70s
Medical history:
Having suffered from hoarseness and coughing for about 1 month, he consulted a local doctor. Left hilar lung cancer was suspected, and the patient was referred to us.
Case video
Compared to conventional white light imaging, the characteristics and distribution of the vessels on the tumor surface as well as the properties of the longitudinal wall are enhanced in the TXI mode, thus facilitating the assessment of the degree of bronchial wall infiltration of the tumor.
Pathological Findings
Squamous cell lung cancer (diagnosed by EUS-B-FNA in mediastinal lymph node metastasis site — with no biopsy of the tumor in the left main bronchus to prevent complications caused by bleeding)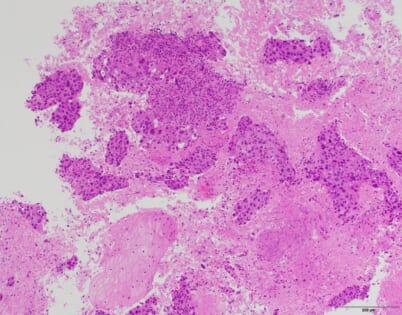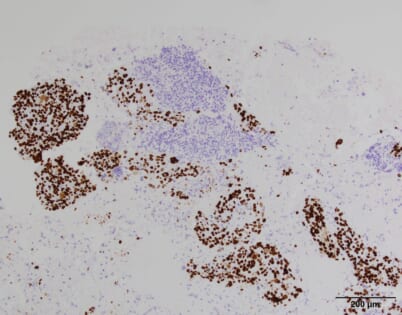 Featuring various cytoplasm types and multi-shaped nuclei, the tumor cells are CK7 and P40 positive but TTF-1 negative.
Overall Comment
We performed a bronchoscopy to determine an appropriate interventional strategy. While the image quality of white light images was extremely clear, using the TXI mode enhanced the vascular properties, highlighting the network of vessels on the tumor surface and the thickening of the longitudinal wall, thereby facilitating comprehension of the characteristics of the lesion and the extent of infiltration. A Dumon stent placement was performed.
Co- author
Department of Internal Medicine, Miyazaki Prefectural Miyazaki Hospital
Dr. Gen-ichi Tanaka, Dr. Ryoichi Matsumoto, Dr. Ritsuya Shiiba 
Department of Surgery, Miyazaki Prefectural Miyazaki Hospital
Dr. Kiichiro Beppu, Dr. Seiichi Odate 
Department of Anatomic Pathology, Miyazaki Prefectural Miyazaki Hospital
Dr. Kousuke Marutsuka, Dr. Murasaki Aman
* Specifications, design and accessories are subject to change without any notice or obligation on the part of the manufacturer