Non-cancerous findings
Before operation flush bladder, in order to avoid blurry image under blue light

Fluorescence test after introduction of resectoscope: tangential lightening of tissue with blue light in the bladder outlet should generate red fluorescence

Fluorescence remains on an area of tissue for a maximum of approx. 7 to 15 min. with permanent ultraviolet radiation

Important: for clarification of tumour tissue, the lighting must not hit the tissue tangentially but if possible at a 90° angle, i.e. vertically. Also use 70° PDD telescope for diagnostic procedure

If no fluorescence can be seen on the bladder outlet, the instillation was unsuccessful

White light destroys protoporphyrin IX in a certain time (15–30 min.) as well if tissue is permanently radiated on one spot

Fluorescence becomes weaker with time. Small, flat areas bleach faster. To prolong fluorescence, set light control function at the light source into manual position. Increase sensitivity at the camera CCU and dim the light as much as possible. Following these instructions means less light will be distributed into the human body and fluorescence will last for a longer period of time

Ensure that the bladder is sufficiently filled and expanded

Fluorescence rendition varies from patient to patient. Accumulation differs from four times to eighty times
Case 1 BCGitis Female, aged 45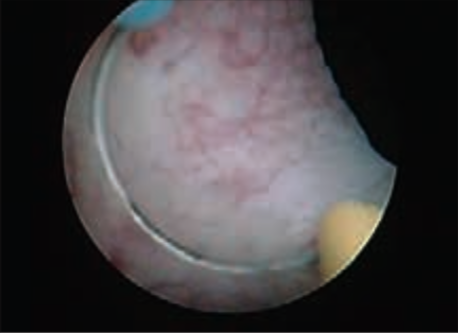 White light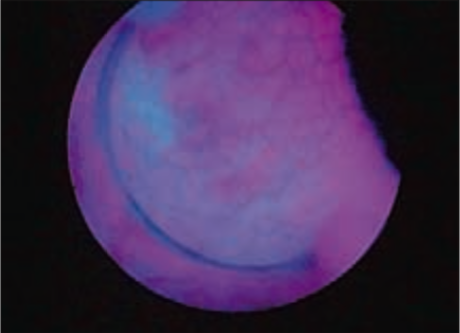 Fluorescence
History
45 yo female with history of pT1aG3 (WHO 2004). Control after six BCG courses shows on WL typical cobblestone-like aspect with distinct flat areas separated by discrete folds. BL shows intense and well-delineated fluorescent areas.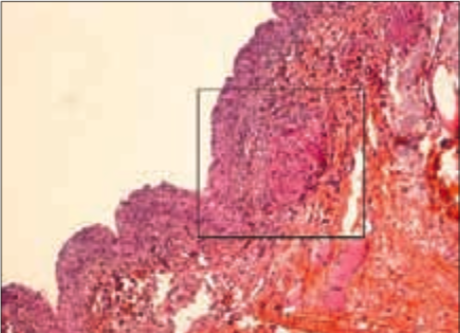 Pathology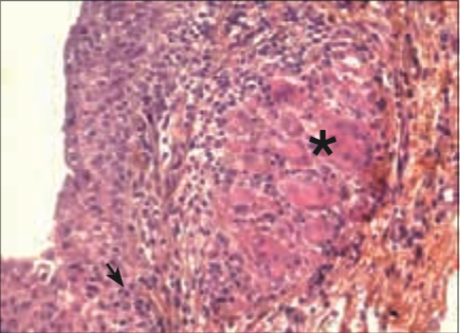 Pathology
Similar organisation with slightly undulated mucosa and discrete exocytosis characterised by few lymphocytes (arrow) in the basal layers of the urothelium. Typical non-caseating epithelioid granuloma (box) with numerous giant cells (*) is evidenced in superficial lamina propria surrounded by densified connective tissue.
Case 2 Lymphoid follicles Male, aged 38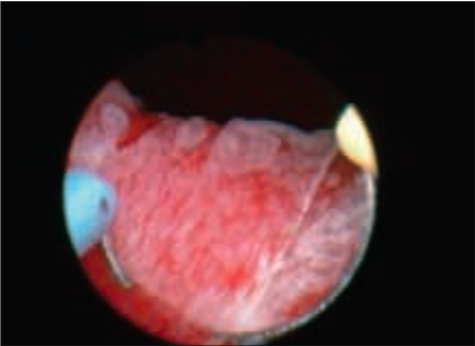 White light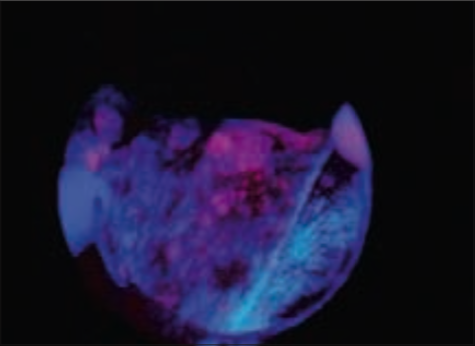 Fluorescence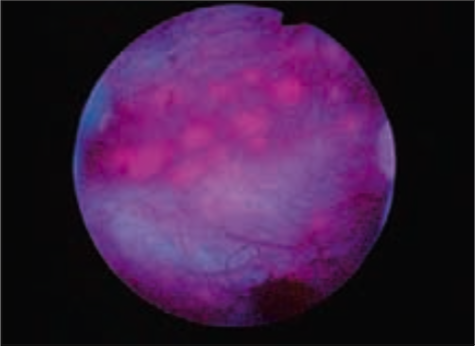 History
38 yo male with neurogenic bladder (spina bifi da) under clean intermittent self-catheterisation of the bladder.
Follow-up WL cystoscopy shows a typical "Christmas tree" neurogenic bladder with raised white lesions (1 mm) on the bladder neck, anterior and lateral walls. They are intensely fluorescent on BL, giving a "panther fur" appearance.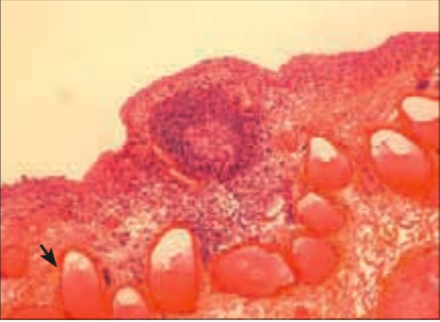 Pathology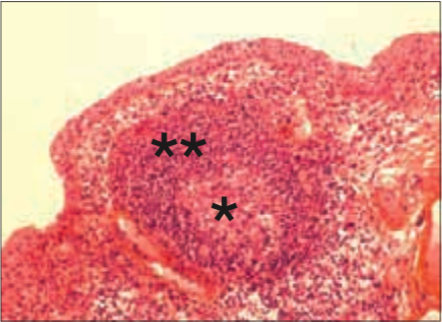 Pathology
Note numerous congestive veins (arrow) at low power magnifi cation, consistent with intense inflammation. Lymphoid follicles located underneath a thin epithelial layer are composed of a germinal center characterized by clear immature cells (*) surrounded by the mantle zone with densily packed small lymphocytes (**).
Case 3 Papillary hyperplasia w/o atypia Male, aged 65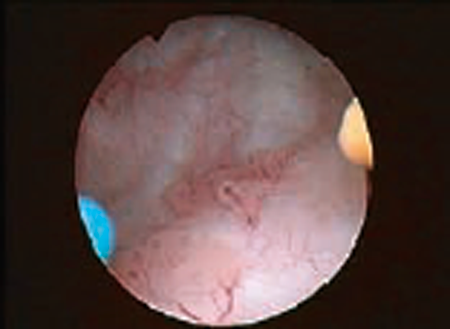 White light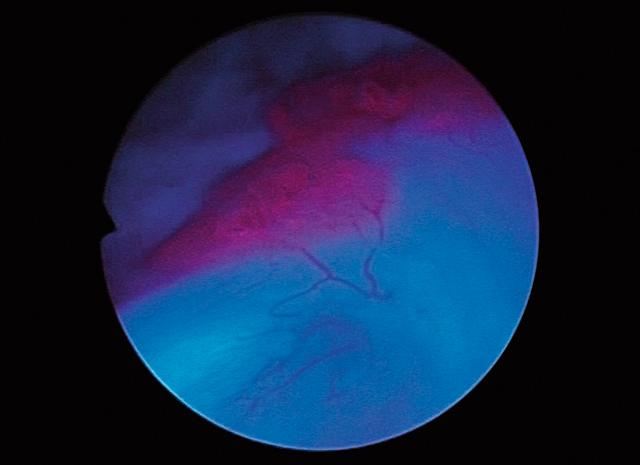 Fluorescence
History
65 yo male with history of pTaG1 NMIBC. WL cystoscopy shows a rough irregular area above the left ureteric orifice, with intense fluorescence on BL illumination.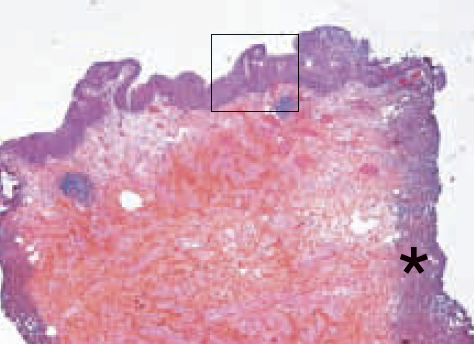 Pathology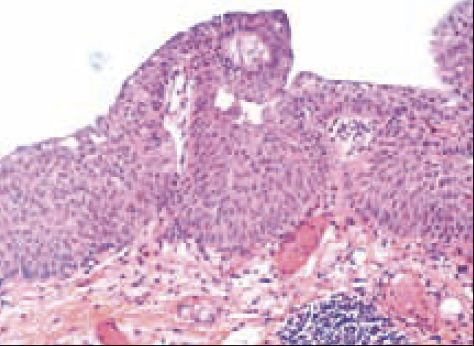 Pathology
Shows undulating folds of urothelium (box) with no suggestion of papillary cancer such as significant cytologic atypia or well-developed branching fibrovascular cores. As evidenced by M1B1, cycling cells are few and restricted to the basal layers (arrows) confirming the diagnosis of papillary hyperplasia without atypia. Note minimal coagulation necrosis (*) in line with the use of bipolar resection.
Case 4 Reactive hyperlasia Female, aged 72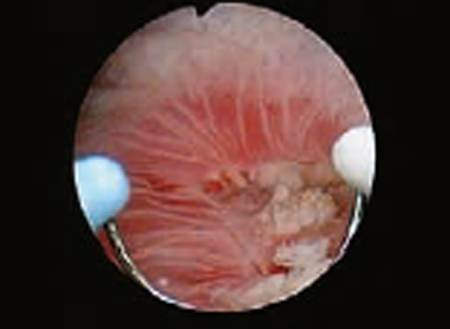 White light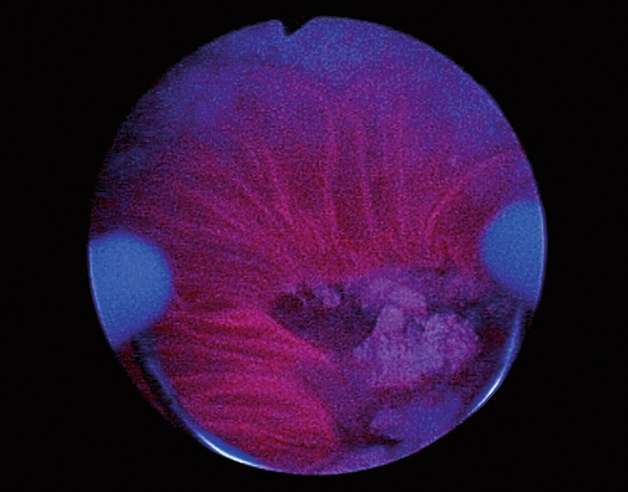 Fluorescence
History
72 yo female, complementary resection six weeks after TURB for pT1G3, shows converging folds of oedematous mucosa that are fluorescent on BL illumination.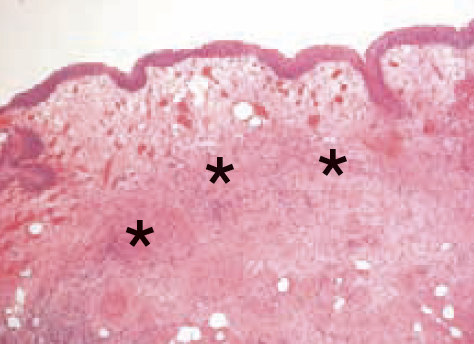 Pathology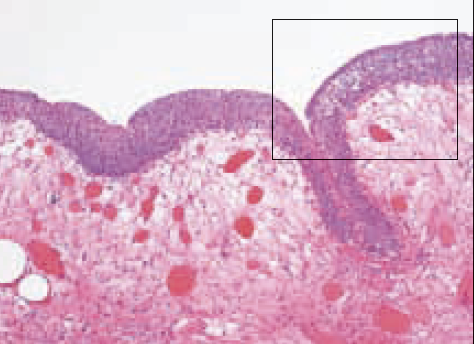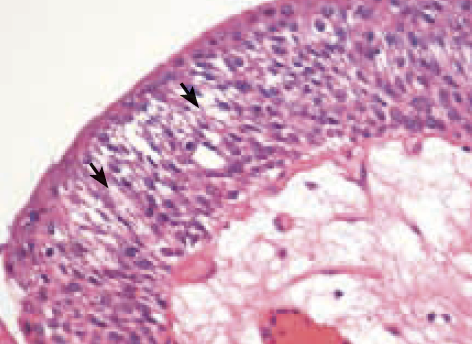 Pathology
Low power magnification shows intense oedema in the superficial lamina propria with numerous congestive capillaries and resorbtive granuloma subsequent to prior TURB (*). High power shows mucosal hyperplasia withmore than seven layers of urothelial cells that are dissociated by extracellular oedema (spongiosis, arrowheads).
Case 5 Non-keratinizing squamous metaplasia Female, aged 42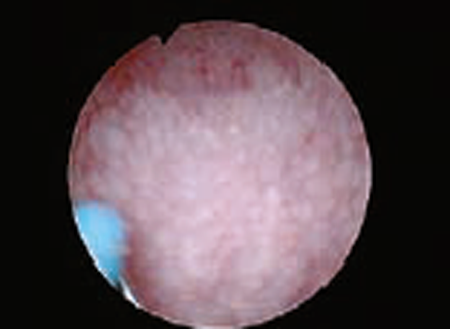 White light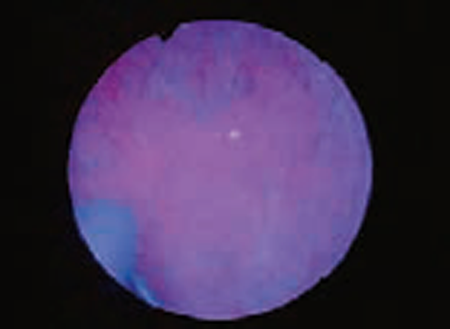 Fluorescence
History
42 yo female, whitish and well-delineated area of the trigone on WL cystoscopy, note the congestive aspect of adjacent mucosa. BL shows faint and inhomogeneous fluorescence.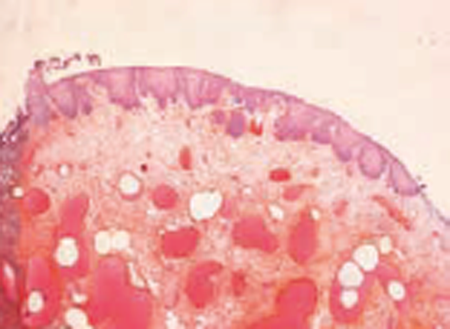 Pathology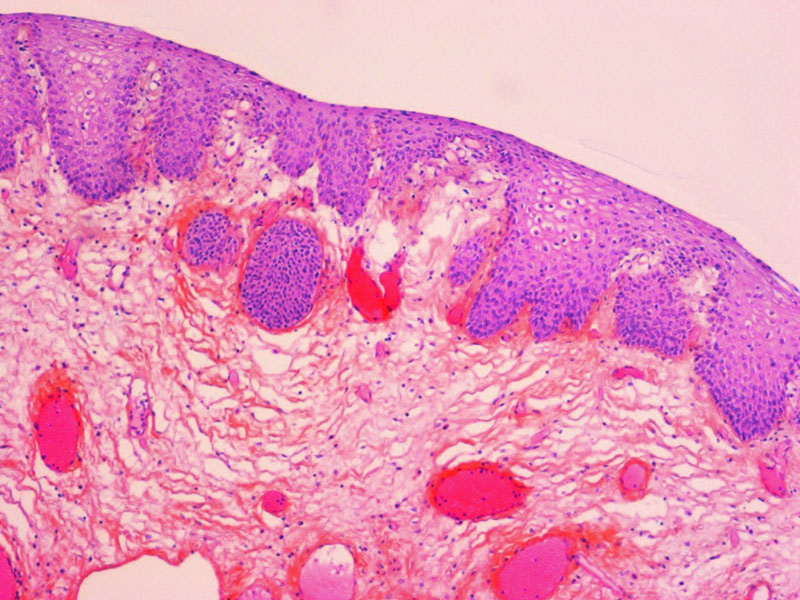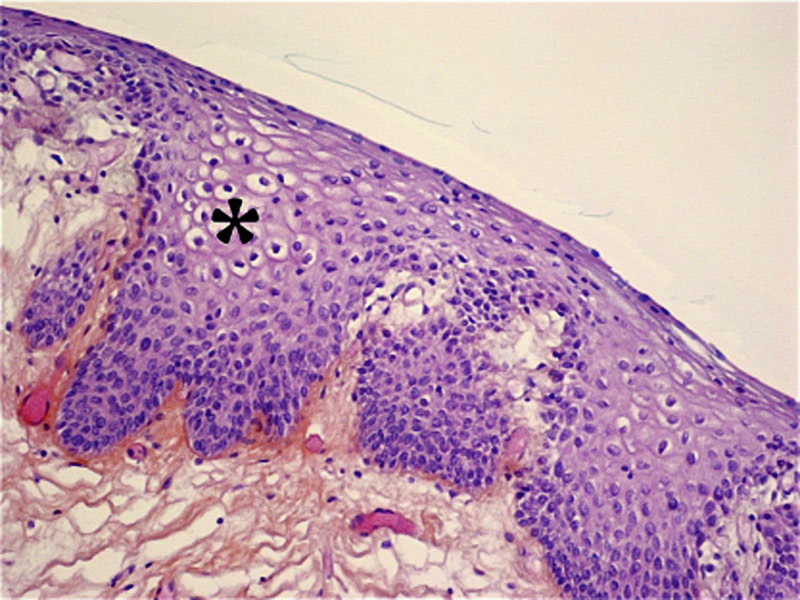 Pathology
Low power magnification evidences foci of non-keratinizing squamous metaplasia set on congestive and oedematous lamina propria. HP highlights clear cells with abundant intracytoplasmic glycogen (*) and lack of keratinization similar to vaginal and cervical squamous epithelium. This condition is related to oestrogen exposure and often observed in women, most typically in the trigone and bladder neck areas.
Case 6 Non-keratinizing squamous metaplasia Male, aged 65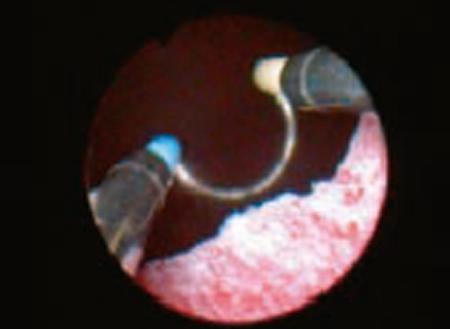 White light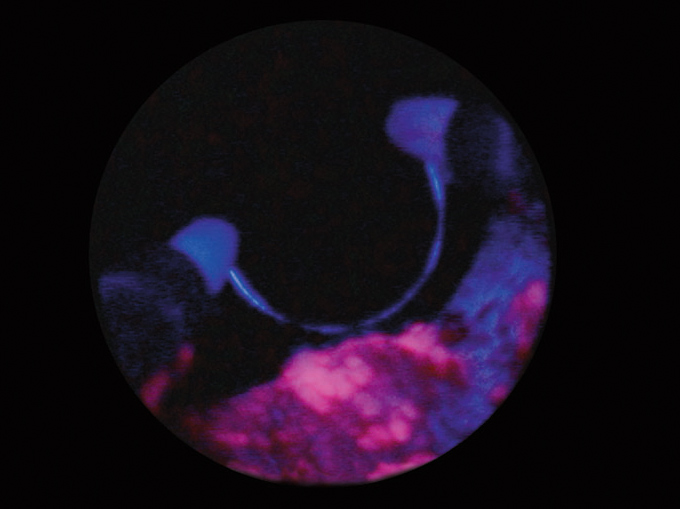 Fluorescence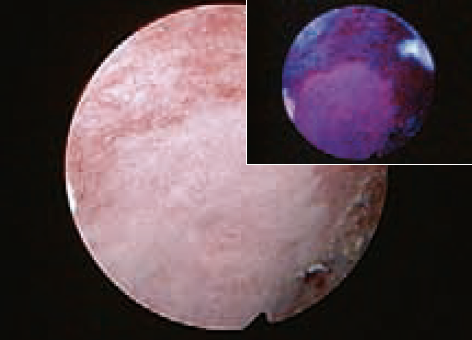 History
53 yo male with history of intermediate risk NMIBC treated by TURB-BCG. Control cystoscopy three years after last recurrence evidences slightly raised islets (1–2 mm) that show highly fluorescent spots on BL.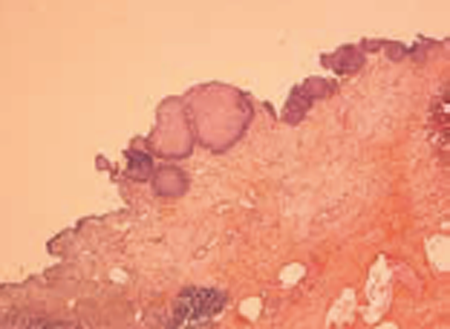 Pathology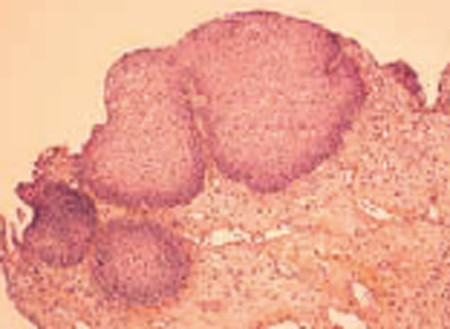 Pathology
Typical non-keratinizing squamous metaplasia is also observed in chronic irritation such as stones, non-functioning bladder or as here shown after BCG.
Case 7 Nephrogenic metasplasia Male, aged 86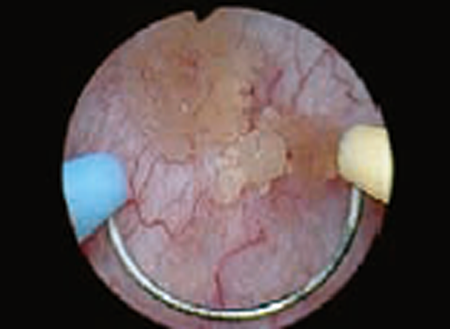 White light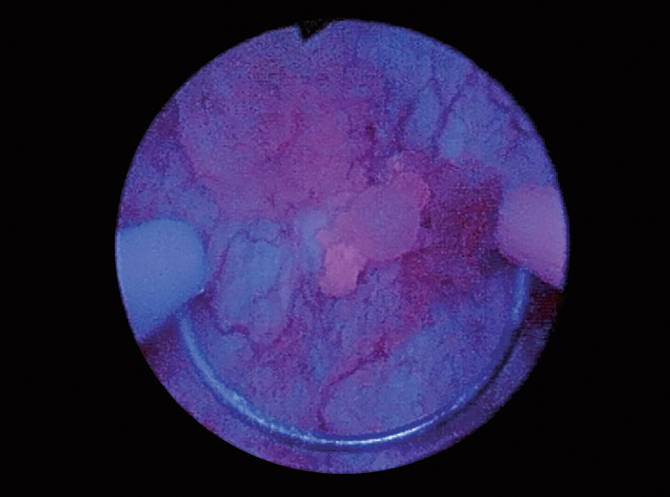 Fluorescence
History
86 yo male with history of recurrent multifocal pTaG3 (WHO 1973), HG (WHO 2004), control cystoscopy during BCG maintenance.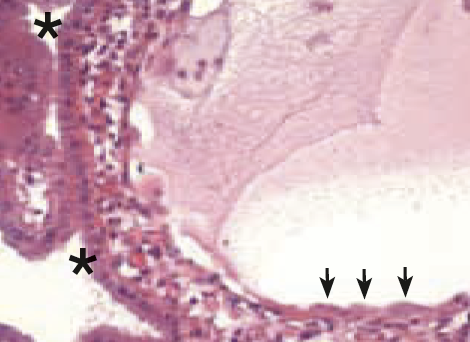 Pathology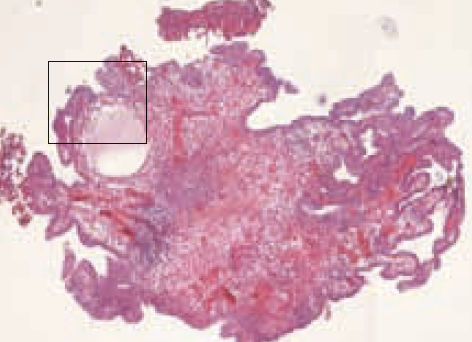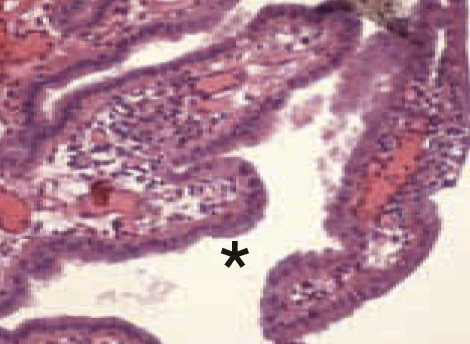 Pathology
Low power: small finger-like papilla fronds and tubular structures that extend within the lamina propria where they can be dilated with protein material (*). High power: the hallmark of nephrogenic metaplasia is the presence of cuboidal (*) or hobnail (arrowheads) cells with clear or eosinophilic cytoplasm.
Case 8 Polypoid cystitis Male, aged 73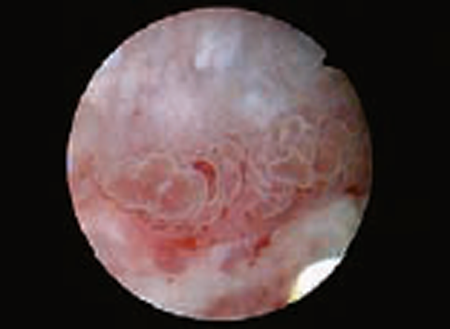 White light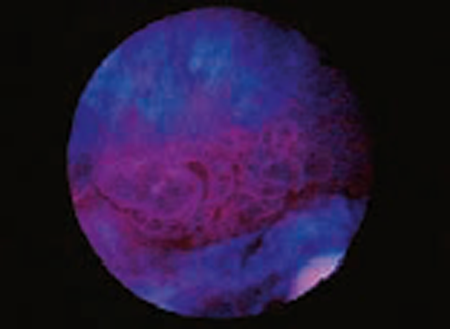 Fluorescence
History
Follow-up cystoscopy of 73 yo male with history of pT1G3 (WHO 1973), HG (WHO 2004) NMIBC treated conservatively. It shows on the right lateral wall a sessile lesion composed of distinct round-shaped units that are slightly fluorescent.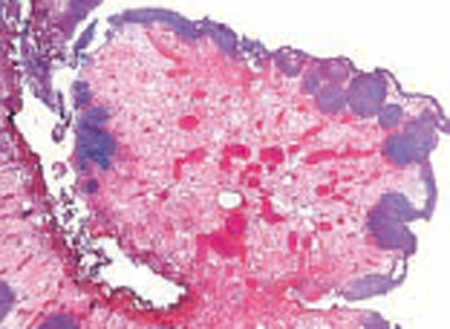 Pathology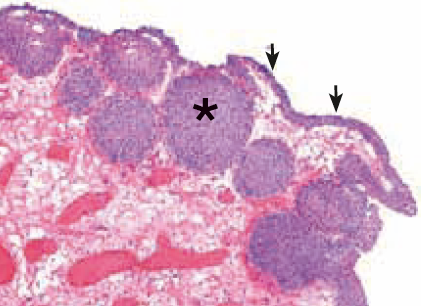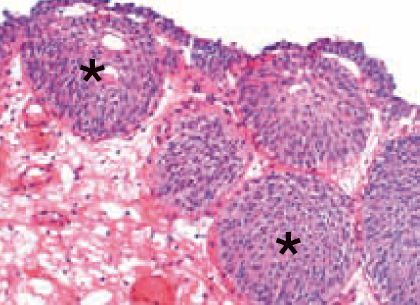 Pathology
Low power: mucosal surface assumes a polypoid contour although without well-defined papillary fronds. Note extensive oedema of the lamina propria with congestive branched capillaries. High power: The urothelial layer is thin (three cell layers, arrowheads) with numerous Von Brunn nests (*) that contribute to the polypoid appearance observed during endoscopy.
Case 9 Incrustated necrotizing cystitis Male, aged 67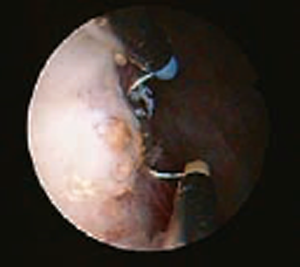 White light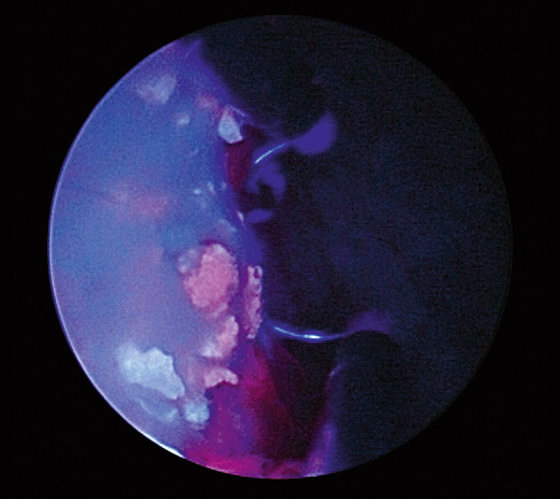 Fluorescence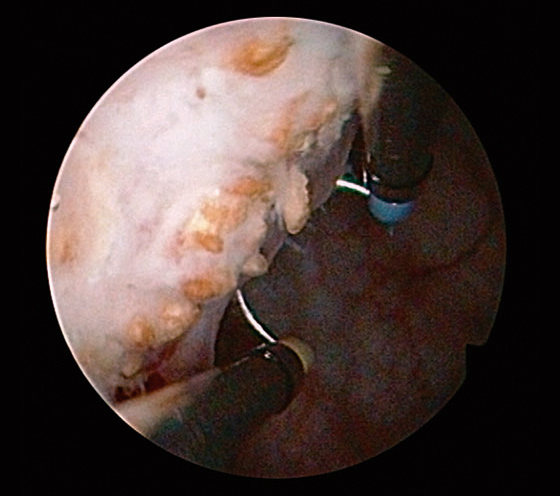 White light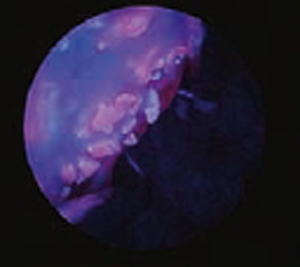 Fluorescence
History
67 yo with history of external beam radiotherapy of the prostate (72 Gys). NMIBC was detected four years after and treated by TURB and adjuvant mitomycin C. Patient complains of recurrent UTIs and presents suspicious urine cytology. Cystoscopy shows dense and slightly exophytic fluorescent foci set on an atrophic mucosa.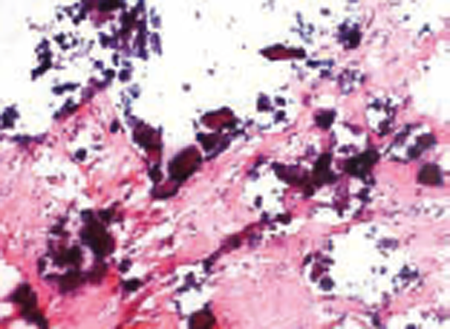 Pathology
Pathology
Due to extensive calcification, sectioning was not optimal. Calcifications are set on necrotic and fibrotic tissue, urothelium is not observed.